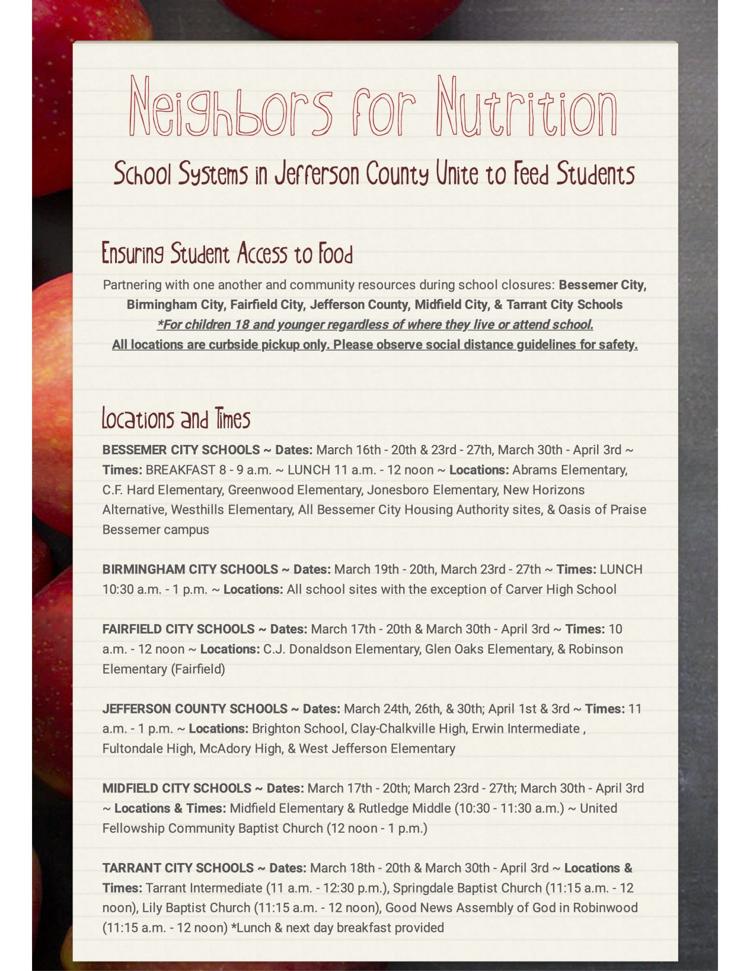 Jefferson County Schools has added more than 30 extended distribution sites for their part of the "neighbors for nutrition" feeding program.  This is in addition to the six school distribution sites that were announced earlier.  They will begin serving meals Tuesday, March 24th and will be serving on March 26th, 30th, April 1st and 3rd. Hours of opertartion are from 11:00 am till 1:00 pm
The extended distribution sites are be run by community partners.  They will pick up meals at area schools and then take them to each location to give out to children.  All meals are curbside pickup only.  Anyone who is 18 years or younger may receive food. 
Extended Distribution Sites - https://www.jefcoed.com/…/Extended%20Distribution%20Sites%2…
Neighbors for Nutrition - https://www.smore.com/w2nvs
List Of Extended Distribution Sites -
**Feeding times will be 11:00am – 1:00pm**
** March 24th, 26th, & 30th; April 1st & 3rd **
**All locations are curbside pickup only**
Center Point Community Center 533 Sunhill Road NW Birmingham 35215
Park Brook Apts. 856 Park Brook Trail Birmingham 35215
Chalkville Landing 121 Trafalgar Square Birmingham 35215
100 Oaks Ministry Center 936 Kenmore Way Fultondale 35068
High Gate Apartments Office 2300 Chapelridge Drive Gardendale 35071
Garywood Assembly of God 2730 Allison Bonnett Memorial Dr Hueytown 35023
Westwood Baptist 2349 Forestdale Blvd Bham 35214
Smithville Baptist 9308 Old Toadvine Road Bessemer 35023
Hopewell Baptist
9076 Hopewell Church Road Pinson 35126
Refresh Family Church 117 12th Court NW Birmingham 35215
Aslan Chalkville Apts. 78 Tammera Trail Birmingham 35215
Bethel Baptist 7000 Bethel Road Dora 35062
Good News Church (Robinwood) 301 7th Street Birmingham 35217
Peachtree Park Office 6521 Peach Tree Blvd Gardendale 35071
New Antioch Baptist Church 1801 17th Street North Bessemer 35020
North Highland Baptist 523 Main Street N Warrior 35180
Union Hill Baptist 7049 Taylors Ferry Road Bessemer 35023
Palmerdale United Methodist Chruch 7776 AL-75
Pinson 35126
Chalkville First Baptist Church 2100 Old Springville Road Birmingham 35215
Chalkville Manor
101 Chalkville Manor Drive Birmingham 35215
High Point Community Church 185 Morris-Cobb Road Empire 35063
Chapel Creek Apartments clubhouse 829 Chapel Creek Lane Fultondale 35068
Gardendale First Baptist (South Campus) 940 Main Street Gardendale 35071
Christ City Church (Lipscomb) 5187 Avenue K Bessemer 35020
Warrior Church of God 103 Yeager Street Warrior 35180
Dogwood Grove Baptist Church 8736 Dogwood Grove Road Adger 35006
Pleasant Grove First Assembly of God 611 Pleasant Grove Road Pleasant Grove 35127
Country Park Apts. 1051 Villa Rica Court Birmingham 35215
Town Square Village Apts. 107 Town & Country Circle Birmingham 35215
Fultondale Village Rec Center 2100 Stoneybrook Lane Fultondale 35068
North Smithfield Fire Station 4635 North Smithfield Drive Birmingham 35207
Pleasant Ridge Baptist 1343 Hueytown Road Hueytown 35023
Living By Faith Christian Center 3333 Main Street Adamsville 35005
(Main Street Shopping Plaza)
Enon Baptist
724 Morris Majestic Road Morris 35116
First Baptist Church Pinson 4036 Spring Street Pinson 35126
Irondale United Methodist Church 400 Deering Street Irondale 35210
Six School Distribution Sites
*For children 18 and younger regardless of where they live or attend school.
All locations are curbside pickup only. Please observe social distance guidelines for safety.
Designated Jefferson County Schools, and neighboring school districts. As a convenience any child (18 or younger) regardless of their respective school district can receive meals either from the JEFCOED schools listed or from one of the neighboring districts. A complete list of the locations and operating hours is provided below:
Locations and Times
BESSEMER CITY SCHOOLS ~ Dates: March 16th - 20th & 23rd - 27th, March 30th - April 3rd ~ Times: BREAKFAST 8 - 9 a.m. ~ LUNCH 11 a.m. - 12 noon ~ Locations: Abrams Elementary, C.F. Hard Elementary, Greenwood Elementary, Jonesboro Elementary, New Horizons Alternative, Westhills Elementary, All Bessemer City Housing Authority sites, & Oasis of Praise Bessemer campus
BIRMINGHAM CITY SCHOOLS ~ Dates: March 19th - 20th, March 23rd - 27th ~ Times: LUNCH 10:30 a.m. - 1 p.m. ~ Locations: All school sites with the exception of Carver High School
FAIRFIELD CITY SCHOOLS ~ Dates: March 17th - 20th & March 30th - April 3rd ~ Times: 10 a.m. - 12 noon ~ Locations: C.J. Donaldson Elementary, Glen Oaks Elementary, & Robinson Elementary (Fairfield)
JEFFERSON COUNTY SCHOOLS ~ Dates: March 24th, 26th, & 30th; April 1st - 3rd ~ Times: 11 a.m. - 1 p.m. ~ Locations: Brighton School, Clay-Chalkville High, Erwin Intermediate , Fultondale High, McAdory High, & West Jefferson Elementary
MIDFIELD CITY SCHOOLS ~ Dates: March 17th - 20th; March 23rd - 27th; March 30th - April 3rd ~ Locations & Times: Midfield Elementary & Rutledge Middle (10:30 - 11:30 a.m.) ~ United Fellowship Community Baptist Church (12 noon - 1 p.m.)
TARRANT CITY SCHOOLS ~ Dates: March 18th - 20th & March 30th - April 3rd ~ Locations & Times: Tarrant Intermediate (11 a.m. - 12:30 p.m.), Springdale Baptist Church (11:15 a.m. - 12 noon), Lily Baptist Church (11:15 a.m. - 12 noon), Good News Assembly of God in Robinwood (11:15 a.m. - 12 noon) *Lunch & next day breakfast provided
For the safety of our children, please follow Food Safety Guidelines:
* Meals are intended to be eaten immediately or should be stored in the refrigerator within 2 hours.
* If you do not have refrigeration, foods need to be consumed within the next 2 hours.
* Hot foods should be kept hot (>135 degrees) and cold foods kept cold (
* If foods need to be reheated, please reheat to 165 degrees.
* If food is not consumed or refrigerated within the 2-hour time frame, please discard.
* Please discard any leftovers within 3 days.