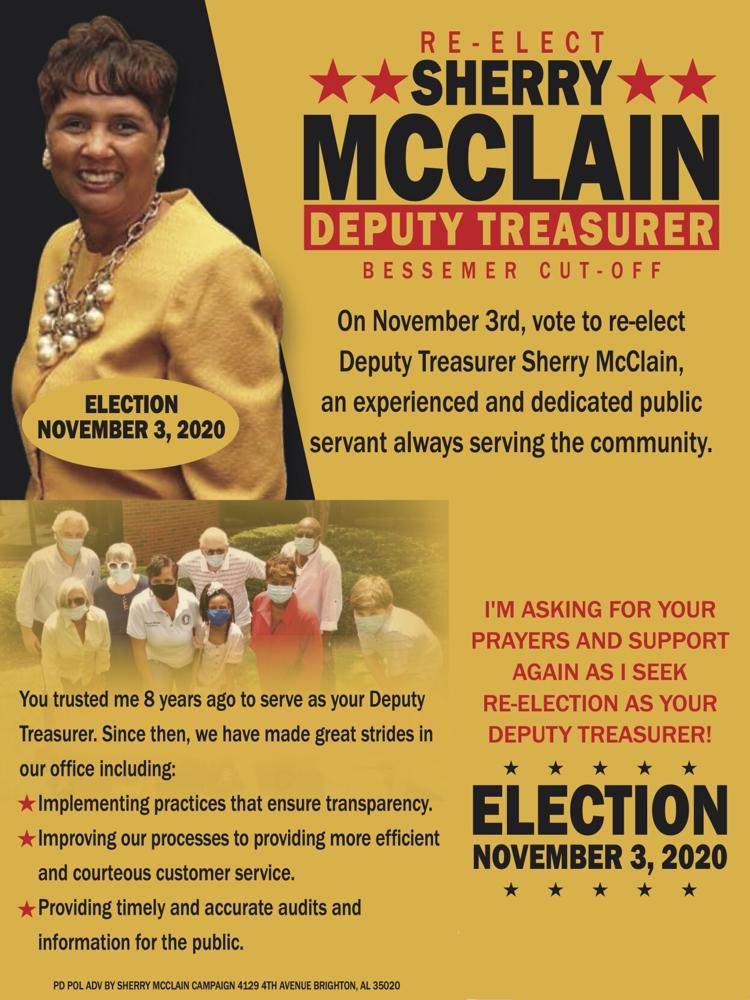 Meet Sherry McClain, Candidate Seeking Re-Election For Jefferson County Deputy Treasurer, Bessemer Cutoff On November 3, 2020 - Paid For by Sherry Mcclain Committee To Elect Deputy Treasurer 4129 4th Ave Brighton, AL 35020
Sherry McClain is the Democratic Camdidate Seeking Re-Election For  Jefferson County Deputy Treasurer, Bessemer Cutoff
Sherry McClain has more than 25 years of accounting experience and has served as your Deputy Treasurer, Jefferson County Bessemer Cutoff for the past 8 years. 
Under her leadership this office has continued to provide the citizens of the Jefferson County Cutoff residents with: 
*timely, accurate and reliable audits 
*handled taxpayers' money both appropriately and effectively 
*performed her duties with the highest level of integrity and professionalism 
Sherry has a proven track record of working with other elected officials to ensure transparency and honesty. 
You know Sherry because she's been at ground zero with you...you know Sherry because her roots are well grounded at Shiloh Baptist Church, Brighton, as a JCCEO Board Member, and as a voice on the Fair Housing Board.  You know Sherry because she has shown her commitment and dedication to serving the people. Proven leadership you can trust!
The general election will be held on Tuesday, November 3, 2020. As the Democratic incumbent, I want to thank you for your trust and confidence in me and I humbly ask you again for your support, your prayers and your vote. 
For more information go to www.votesherrymcclaindeputytreasurer.com.
(Disclaimer) This is a paid for political advertisement paid For by Sherry Mcclain Committee To Elect Deputy Treasurer 4129 4th Ave Brighton, AL 35020. This article is in no-way an endorsement or approval of candidate by The Cutoff News its employees, any affiliates or advertisers. All data and information provided in this article is for informational purposes only. The Cutoff News makes no representations as to accuracy, completeness, currentness, suitability, or validity of any information on in this article and will not be liable for any errors, omissions, or delays in this information or any losses, injuries, or damages arising from its display or use. All information is provided on an as-is basis. The views, opinions, statements and beliefs expressed in this article do not in any way represent the views, opinions, statements and beliefs of The Cutoff News, its employees, any affiliates or advertisers.