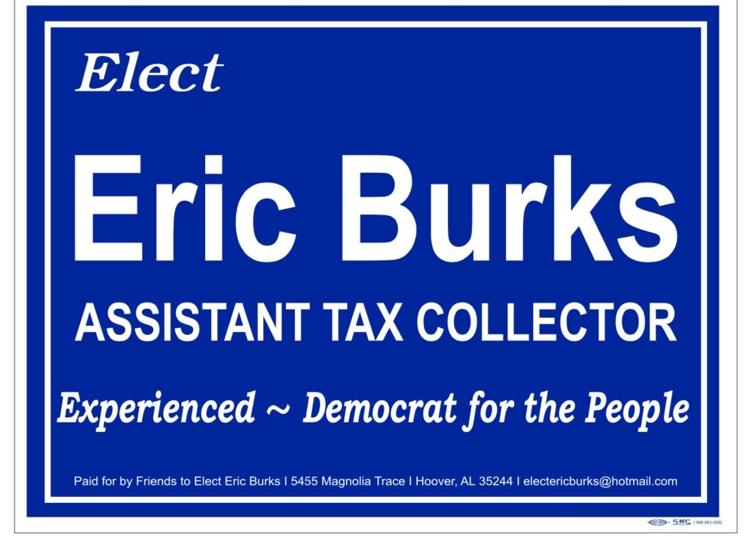 Meet Eric Burks, Candidate For Assistant Tax Collector Bessemer Division On November 3, 2020 - Paid For by Friends To Elect Eric Burks 5455 Magnolia Trace Hoover, AL 35244
Eric Burks is the Democratic Candidate Seeking Election For Assistant Tax Collector Bessemer Division On November 3, 2020
My name is Eric Burks and I am your democratic candidate for the position of Assistant Tax Collector of The Bessemer Cut-Off Division. I was unopposed for the democratic primary but solicit your support for the general election to be held this Tuesday. I believe that the person holding the office of Assistant Tax Collector should be qualified based on the tenets of education, experience, and community service. This is especially true of the current Assistant Tax Collector, Mr. Grover Dunn, who encouraged me to run for his position.
Educationally, I hold degrees in engineering, education, and public administration from the United States Air Force Academy, The University of Alabama, Auburn University at Montgomery, and The University of Alabama at Birmingham where I am currently a Doctoral Candidate.
My work experience covers over thirty-five years of managerial positions in engineering, business development, and state and local government. Most importantly, I have had the privilege of serving over ten years as the first African American Chief Deputy in the Birmingham Division of the Jefferson County Tax Collector's Office. This position has afforded me with valuable experience and allowed me to be more than well versed in the day to day duties and operations of the Assistant Tax Collector's office.
My previous work experience includes engineering positions with Ford Motor Company, Northrop Advanced Systems Division, and The California Manufacturing Technology Center. Likewise, prior business development positions held include the following: Workforce Development Coordinator-Bessemer State Technical College, Assistant Director-The Alabama Development Office, Associate Director-The Center for Rural Development, and Vice President of Business Development-Birmingham Regional Chamber of Commerce.  
Regarding Community Service, Family comes first, and I am the proud parent of two sons and the husband of my beautiful wife, Karen. I am also blessed to serve as a deacon and Sunday school teacher at Shady Grove Missionary Baptist Church where Dr. Victor L. Harkins, Sr. is my pastor. Politically, I am a member of the Jefferson County ADC, the State Democratic Executive Committee, and the Concerned Citizens of the Bessemer Cut-Off where I have been recently elected as President. I am excited about serving the citizens of the Bessemer Cut-Off and pledge to uphold the tenets of the office of Assistant Tax Collector. I humbly ask for your vote, support and especially your prayers as we move forward in this election.  Thank You. 
(Disclaimer) This is a paid for political advertisement paid by Friends To Elect Eric Burks 5455 Magnolia Trace Hoover, AL 35244. This article is in no-way an endorsement or approval of candidate by The Cutoff News its employees, any affiliates or advertisers. All data and information provided in this article is for informational purposes only. The Cutoff News makes no representations as to accuracy, completeness, currentness, suitability, or validity of any information on in this article and will not be liable for any errors, omissions, or delays in this information or any losses, injuries, or damages arising from its display or use. All information is provided on an as-is basis. The views, opinions, statements and beliefs expressed in this article do not in any way represent the views, opinions, statements and beliefs of The Cutoff News, its employees, any affiliates or advertisers.