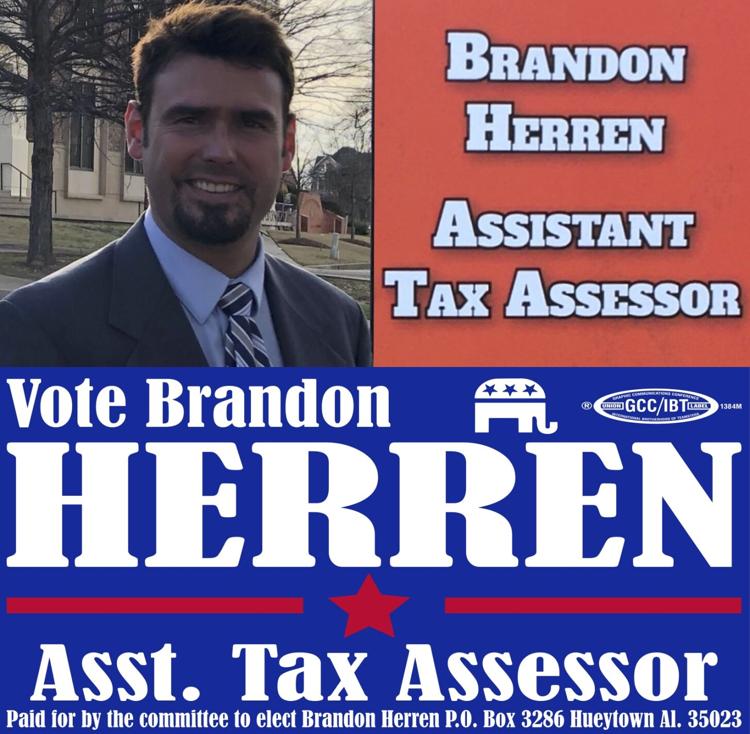 Meet Brandon Herren, Candidate For Assistant Tax Assessor Bessemer Division On November 3, 2020 - Paid For by Committe To Elect Brandon Herren P.O. Box 3286 Hueytown, Al 35023
Brandon Herren is the Republican Candidate Seeking Election For Assistant Tax Assessor Bessemer Division On November 3, 2020
My name is Brandon Herren and I am 39 years old. I am married to the best Wife I could have asked for. A Good Christian Woman who's an RN and after seeing how much I have enjoyed being a REALTOR, she decided to become a REALTOR and gained her license about two months ago. Her name is Laura. We have an 8 year old girl named Olivia who is a beauty pageant winner and a piano player as well. I also have a son named Cash who is 13 years old and is a Golfer. Myself I'm a member of the Masonic Lodge #617 in Oak Gove. I'm a Christian who was baptized in the grace of God at the age of 15 at Temple Baptist Church. I graduated from Hueytown High School in 1999 and then went to Jeff State and Beville State. A few years later when I met the folks selling my mothers house I was taken with the profession of real estate and decided to go for my real estate license and started doing it part time until 4 years ago when I decided I wanted to make it my full time career. soon I will be going for my Broker's License.  I was also a Systems Administrator in an IT department for 10 years before I chose to do real estate full time. I have been very fortunate as a REALTOR due to a lot of hard work and meeting so many great people over the years and making so many wonderful friends turned Clients. I was also extremely fortunate enough to be accepted by the very best Real Estate Company around.....Five Star Real Estate LLC. I've received top notch training and promotion as well which lead me to winning the rookie of the year award for the company in 2017. This past year my grandmother Ethel Vines who has always been there for me had a stroke and about 6 months ago became unable to care of herself anymore and was headed to a nursing home. Well my Wife and I decided to take her in and we did the very best we could until unfortunately dementia set in. My wife and I cared for her for close to 5 months until we simply couldn't provide her the care she needed anymore and unfortunately she had to be admitted into Self Nursing Home in Hueytown 2 weeks ago. All this has happened during this year's campaign. I've done the very best I can with the time I've had. The determination it takes to actually make a much needed change in the cutoff in the Tax Assessor's office is something I'm built for. I found out that not a lot is harder than taking care of an 89 year old with onset dementia around the clock and also home schooling your child because of COVID-19 and running your real estate business successfully and managing a political campaign at the same time. If I win this election, making that needed change in the Assistant Tax Assessor's office will be an exciting new challenge for me which I look extremely forward to. I plan on working closely with the Assistant Tax Collector and Deputy Treasurer and getting everyone on the same page to lay out a plan that will be the most beneficial to the residents of the Cutoff. As of now the Bessemer Courthouse is the Wild West. Things have really changed since I grew up watching several relatives of mine serve the Bessemer Courthouse and I have long had a desire to follow in their footsteps. I have strong Conservative Values and believe this is a very scary time in our Country's history and this election is critical. The Left has tried to turn the term Conservative into something horrible and racist when it is no such thing. It means having strong Christian and family values and having faith in God. It means being accepting to others and not attacking them just because they may believe differently or attacking them over clothing they may be wearing or attacking and burning down communities which gets nothing done accept to create a bigger problem.  It means saving lives and not aborting lives. It means supporting our Military and our Police Offers and thanking them for protecting us!  It means if your physically and mentally able to, then working hard and earning what you have and not waiting on a handout and it means loving the greatest Country in the world and protecting its Constitution and not attacking it. If that is wrong I don't won't to be right. I Sincerely ask for your vote on November 3rd. and know that if I am elected my door will always be open to help you and answer any questions you have regarding your property assessment and property taxes. Thank you!
Campaign Facebook - www.facebook.com/herrenfortaxcollector/
(Disclaimer) This is a paid for political advertisement paid by Committe To Elect Brandon Herren P.O. Box 3286 Hueytown, Al 35023. This article is in no-way an endorsement or approval of candidate by The Cutoff News its employees, any affiliates or advertisers. All data and information provided in this article is for informational purposes only. The Cutoff News makes no representations as to accuracy, completeness, currentness, suitability, or validity of any information on in this article and will not be liable for any errors, omissions, or delays in this information or any losses, injuries, or damages arising from its display or use. All information is provided on an as-is basis. The views, opinions, statements and beliefs expressed in this article do not in any way represent the views, opinions, statements and beliefs of The Cutoff News, its employees, any affiliates or advertisers.